Press
Listen to Jacy's interview with NPR in Hawaii during our work there in early 2019.
---
Jacy has a starring role in this PSA from the "It Can Wait" campaign.
---
We keynoted a very special day at Lynbrook High School in NY. A few times a year we're a part of events like these at high schools or middle schools. It's an incredibly powerful way to give young people unique perspectives on various important issues impacting the world.
---
Check out a profile of Jacy on a segment of CNN's The Human Factor along with an accompanying article!
---
November, 2017
Our friends at StreetSafe in North Carolina have now had us 17 schools. It's a fantastic partnership that's helping us change the driving culture of an entire state, one teen at a time. This great story.
---
March, 2016
We spoke at Somers High School in NY, an event we do every year for a new batch of students and their parents.
---
Wanna see how far Jacy's come? This video was the very first interview Jacy gave as the local newspaper updated the community on Jacy's condition. Created less than five months after Jacy's graduation day one can readily see Jacy's lingering cognitive struggles. It inspires us everyday to remember where we were then and what we've achieved since.
Jacy on The Oprah Winfrey Show. Our first speech was a month later and we never looked back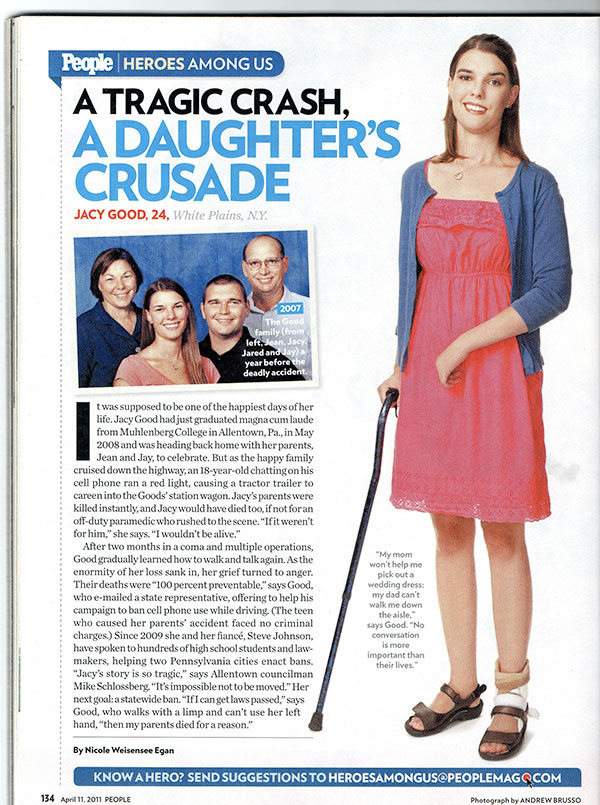 Jacy is "A Hero Among Us" in People Magazine!